JSU Won 5th Consecutive "Challenge Cup"
Jiangsu University was awarded its 5th consecutive "Challenge Cup" (its 6th overall) in the 14thExtracurricular Academic Science and Technology Works Competition Of National College Students. JSU was awarded 360 points, ranking 9th in the competition. The competition was held in Guangdong University of Technology from the 16th to the 21st of November 2015.
During the final stages of the competition, President Yuan Shouqi instructed the contestants himself with Li Hongbo,Vice President of JSU, incharge of the team, and with the assistanceof Vice President Cheng Xiaonong, Shi Weidong andProf. Shao Qixiang from the School of Medical Science.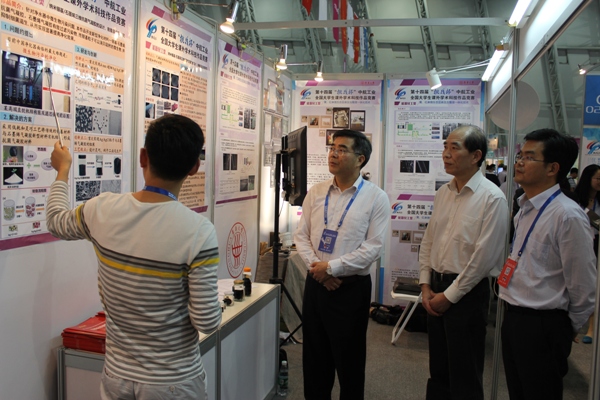 Organized by the CYL Central Committee, CAST and the Ministry of Education, the "Challenge cup" is auniversal demonstration held every two years. It is known as "The Olympic Games of Science and Technology Innovation" for national college students.

JSU began early preparing for this year's event. In 2014 the CYL committee of JSU organized the extracurricular academic science and technology works competition. In 2015, after participating in the "Challenge Cup" of Jiangsu province, JSU selected 6 pieces for the national "Challenge Cup", and they were verified in the final review. JSU was also awarded the "Outstanding Organization Award."