First Global Confucius Institute Day
In order to celebrate the 10th anniversary of Confucius Institute foundation, the first global Confucius Institute Day activity was held simultaneously on September 27, 2014 in 123 countries and districts. Overseas Education College of Jiangsu University successfully held the sub-session at the new library at Jiangsu University. More than 100 international students shared the happiness together.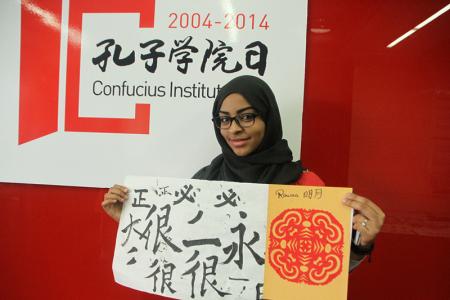 President Xi jinping write letter to show sincere greetings and expressed warm congratulations to all the teachers and students of Confucius institute .Premier Li Keqiang has also sent a letter to express congratulations.
In President's letter he said that he received the principal and the dean's letter of 90 Confucius institutes from 90 countries and regions. They said in the letter, the Confucius institute is China as a symbol of world peace and international cooperation and make unremitting efforts, is the tie that connects the Chinese people and the people of the world, and confidence in a bright future of the Confucius institute. I deeply appreciate. Ten years, the Confucius institute actively carries out Chinese teaching and cultural exchange activities, in order to promote the world civilization exchange mutual learning, enhance mutual understanding and friendship between Chinese people and people from different countries play an important role. You in order to promote cultural knowledge dissemination, people's mind communication and invested enormous enthusiasm and efforts, this is a very meaningful work.
Confucius institutes aims to expand the Confucius institute to regional influence, enhance people's understanding of it. According to the teaching arrangement of most countries, the date is selected in the fall semester begins, near "Mid-Autumn festival", "National Day", the Confucius institute will be performing through courses, seminars, concentration, competition, games and other forms of Chinese culture. The Confucius institute headquarters will provide school funding according to the need for countries' Confucius institute.